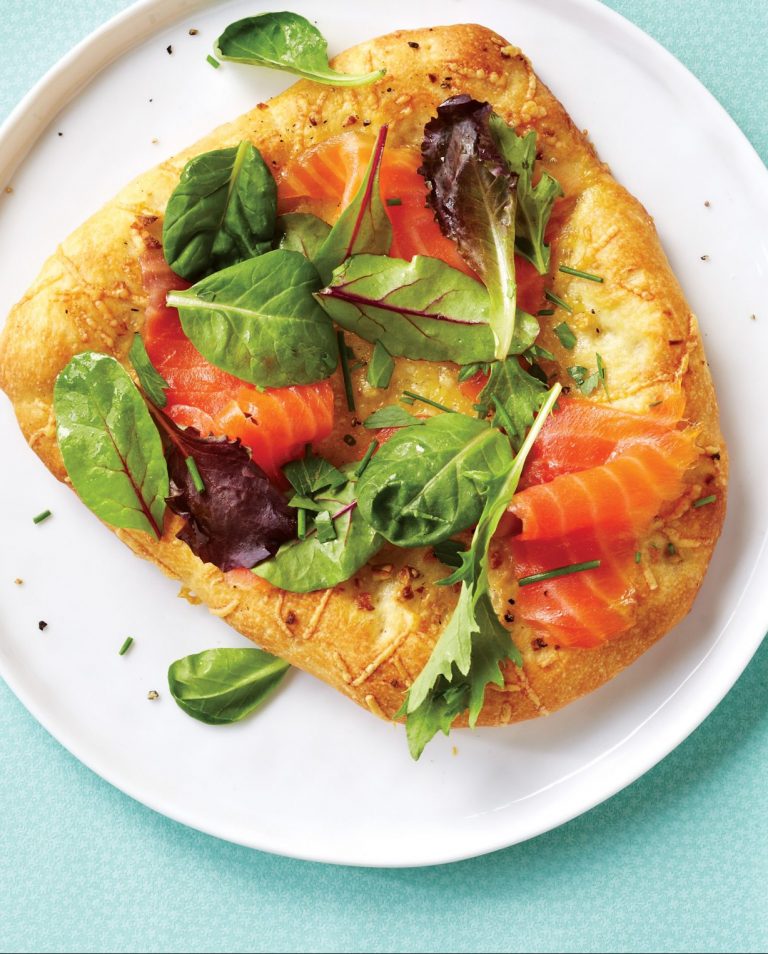 White Pizzettes with Smoked Salmon and Baby Lettuces
Preparation Time: 15 mins
1 450 g ball frozen pizza dough , defrosted
2 tbsp olive oil
1 tbsp chopped garlic
1/2 cup Parmesan
black pepper
1 tbsp olive oil
1 tbsp fresh lemon juice
pinch granulated sugar
salt , to taste
black pepper , to taste
200 g smoked salmon , torn into pieces
3 cups baby greens , (we tested with spicy oriental mix)
1 tbsp chopped Italian parsley
1 tbsp chopped chives
Heat oven to 450°F.
Line 2 baking sheets with parchment paper.
Place dough on a lightly floured surface and cut into 6 portions. Roll or use your hands to pull into 6 thin crusts. Transfer to prepared baking sheets, and prick crusts all over with a fork.
Combine 2 tbsp olive oil and garlic in a small dish. Brush each crust with the mixture. Sprinkle each with Parmesan and pepper.
Working with one baking sheet at a time (for maximum crispiness), bake for 10 to 12 min or until crusts are crisp and golden.
Combine 1 tbsp olive oil with lemon juice and sugar. Season with a pinch of salt and pepper.
Top pizzas with smoked salmon. Toss baby greens with parsley, chives and dressing and sprinkle over salmon. Serve immediately.